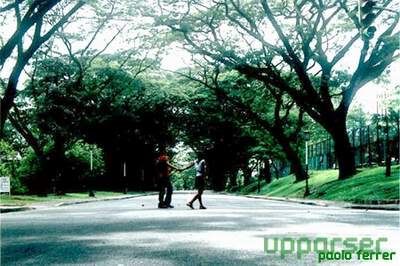 Inseparable
by Phillip Kimpo Jr.
The morning mist
Sends shivers down my spine
My hand trembles in the cold
Even as I hold yours,
Yours grip mine.
Both hands shiver
As we wait to cross the street.
Light turns green. Go, walk! – is your cheerful
Shriek.
The morning mist
Numbs my feet. Drag me
To the middle of the street
Where two sides meet
Dangers peak
And the road is
Split.
Your feet walk miles, mine an inch
Hands shiver.
Soothe me. Whisper
Those three words
Now foreign, now dull,
Fire dampened
By the morning mist.
Whisper, whimper
Tug at my hand
Pull me over, cross the divide
Pull me to the other side.
But my hand
Pulls otherwise.


1:30 AM
January 23, 2005
Quezon City


[Yeah, a month-old poem. Picture courtesy of one of my closest buddies, Pepoy. Taken in UP Diliman. The low-resolution scan does great injustice to his superb photography.]